Healthy hair is pretty hair. Simple as that. The best way to ensure you have healthy hair, is to take proper care of it. With a complete Aveda hair care system at home, I promise your hair will be getting all the love it needs to be long, shiny, voluminous; whatever adjective you want! I have been using strictly Aveda on my hair for close to 5 years now. Occasionally I have used other products in a pinch, but I can tell the difference in how my hair feels and looks immediately.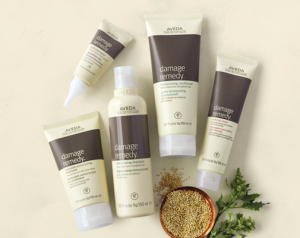 What Makes a Complete Aveda Hair Care System?
Shampoo and Conditioner. Aveda has multiple options for multiple hair types. Whether you have dry hair, or need some extra volume, Aveda has an shampoo and condition set for you. What is nice about how Aveda markets their products is that their names make it easy to know what they will do to your hair. For example, Smooth Infusion will help tame frizz and smooth your hair for a sleek style. Damage Remedy helps to rebuild your hair with quinoa protein.
Leave-in Treatment. Aveda has 7 different leave in treatment options for your hair. These include:
Dry Remedy Daily Moisturizing Oil – for moisture
Scalp Benefits Dandruff Solution – for dandruff control
Color Conserve Daily Color Protect – to prevent color fading
Damage Remedy Daily Hair Repair – detangles and protects hair from blow dry while adding protein to the hair
Damage Remedy Split End Repair – instantly repairs split ends
Sun Care Protective Veil – help protect hair from sun damage
Invati Scalp Revitalizer – helps keep the hair you have on your head longer
Treatment. Treatments are similar to leave-in treatments where they give the hair special attention, however, these are to be rinsed out before styling. There are 5 that Aveda offers including:
Dry Remedy Moisturizing Mask – for moisture
Men's Exfoliating Shampoo- gets rid of scalp build up
Color Conserve Strengthening Treatment – adds shine and strength to hair
Damage Remedy Intensive Restructuring Treatment – adds protein to the hair
Smooth Infusion Smoothing Mask – softens hair and seals in moisture
By adding a complete Aveda hair care system to your at home routine, I promise you will see a noticeable difference in how your hair looks, feels, and styles. Stop in today so we can get your started on your regiment.
Until Next Time,
Josie 🙂