Finally, OUR FAMILY GROWS (and yes, we are hiring)! We are excited to officially announce Ashka Salon + in South Lyon…our 2nd location and sister salon! We have been a part of the Canton Community for 15 years and are expanding into the up-and-coming South Lyon Community. Our Ashka Tribe is so thankful for this journey to grow and also because we get to expand our world! Ashka Salon+ (PLUS) is an AVEDA full-service salon for all of your hair designing, hair color and hair care needs. We will also offer new and additional services to be added on throughout 2019.
In contrast to our Canton location, the + at the end of our name signifies special services. Most noteworthy are many straightening options, lash lifts, express skin treatments, lash extensions and also hair extensions. Our industry and beauty care standards are always evolving and we want our company, team and also our service menu to evolve with them. As a result of foregoing the traditional spa model, we leave the door open to new and exciting services at price points and timing to fit your life. Most of all, we want to be your refuge and give you a delightful experience and an escape to wellness!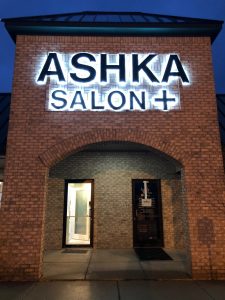 Remodeled Hair Color Space Awaits You – Relax at Ashka Salon+ in South Lyon
Our new space has been fun to update and we have taken the opportunity to improve it for your enjoyment. A brand new manicure area and shampoo experience await you, because we want to be the best option for your beauty needs. Lay down and receive a one-of-a-kind shampoo to wash out your AVEDA hair color. While things are still dusty and a work in progress, we can see all of the sparkly light at the end of this remodeling process! Over the next six months we will add a pedicure area, makeup area with tons of natural light and an express skin and lash studio. Although, these projects happen one at a time, here is a sneak peak of our shampoo experience…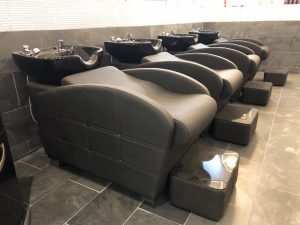 Natural Nail Manicures and Pedicures – Ashka Salon+ in South Lyon
Our natural nail paradise will be here for you soon! Ashka Salon's technicians focus on the natural nail because we care about your health and wellness. We offer regular manicures with Vinylux polish and we use Shellac for our gel polish. Our spa pedicures are coming soon and they will be done on a comfortable padded spa table for an experience unlike the rest. Stay tuned to our website and Facebook page for updates in real time!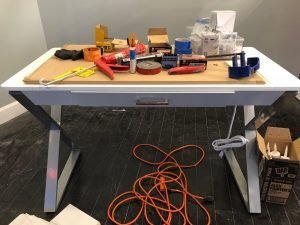 Sparkly and Classic Styling Awaits You – Ashka Salon+ in South Lyon
First of all, lots of special details have been added to this space, including all new lighting to brighten your experience! Some members of our Ashka Tribe in Canton will be joining us one day a week in South Lyon to kickoff  our new location. We are lucky to have Kay, Josie, Lisa, Casey, Evelyn and Kristin (read about Ashka's VERY FIRST tribe member here) launch Ashka Salon+ and insure our new guests have an experience we are all truly proud of! All of these team members are AVEDA trained hair colorists and have had much success at our Canton location. They join Joe Loose, Independent Stylist, Salon Consultant & CEO of Graphene Hair Tools as well as Lauren, an experienced Nail, Skin and Microdermabrasion Technician who have previously worked out of this space.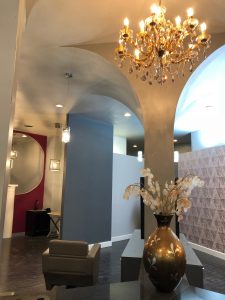 Classic Canvas For True Artistry – Ashka Salon+ South Lyon
Let the capable artists, designers and technicians at Ashka Salon+ bring your look to the next level! Our space represents our goal of taking a beautiful canvas and enhancing it to reveal the beauty within. Due to this, our facility is clean and classic with gorgeous grays and an eclectic mix of styles and colors. Most of all, we hope you find our space and our team of professionals to be warm, welcoming, fun and worth your investment!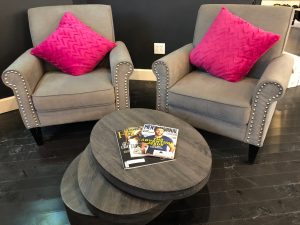 AVEDA Hair Color & Products…Only the Best!
We are honored to partner with AVEDA and offer only the best in hair care, hair color and skincare! Because ingredients matter, sourcing matters and manufacturing matters to us all and to the environment. Therefore, AVEDA has been sourcing, producing and manufacturing sustainably since way before it was cool. AVEDA is cruelty free, and in contrast to other beauty companies goes far beyond in many areas. Most notably, they support indigenous communities and farmers around the world. Come on in to see, feel and learn what it's all about! Cherry Almond Softening Shampoo and Conditioner, anyone? (Because you will NOT be sorry!)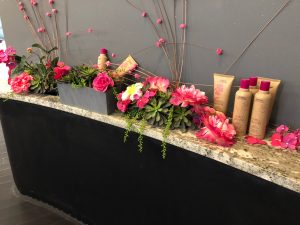 Ashka Salon+ South Lyon Hiring Stylists, Students, Assistants and Front Desk Coordinators
Above all, we are grateful to our Ashka Tribe, our family of guests and the Canton Community for the 15 year journey that has led us here! Our entire team looks forward to investing in the South Lyon Community. Our emphasis is on giving back to area schools, causes and non-profits. Most noteworthy, we believe we rise by lifting others and we are incredibly excited to move forward. We are conveniently located at 21190 Pontiac Trail between 8 and 9 mile next to Metro PCS and Lyon Veterinary Clinic.
Our Ashka Salon Tribe and our Entire Family Welcomes You To Join Us and
Experience the Ashka Difference!